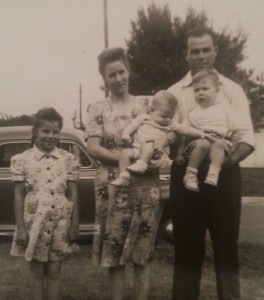 It wasn't an appealing dwelling place for a family but California's Mojave Desert supplied one perk. Houses didn't cost much. South African immigrants had assigned retired gold mining communities their names. A two mile drive west of Johannesburg led to Randsburg. Clyde, Thelma and seven-year-old Betty settled into their new home. He paid $150 for the house. His plumbing skills secured work for him at a nearby military base.
Clyde privately pledged that he and Thelma would have no more children. He vowed so during the agonized hours after Bobby's drowning. For sure, his heart began a slow healing as he read through Bible stories. The life and words of Jesus especially drew him in, bringing more composure. And he sensed growth in his spiritual journey.
Still, something he dreamed after going to bed one night in their small Randsburg home left him astonished.
In his dream he pictured small children whom he couldn't recall ever seeing before. They were lively, happy at play.
After some moments into the dream a crisp, convicting message – like a theme – overtook his mind. Bringing no further children into the world was not Clyde's decision to make. Not really. His choosing this path closed the door to receiving precious little ones assigned to their family's care.
Receiving? Assigned?
In the days following, Clyde could not shrug off images of laughing, playing children nor the dream's assertion as he experienced it. The matter became a conviction. He yielded.
In due course Thelma delivered their third child. All nine pounds of Timothy Arthur Lout were clearly present. Exclamations erupted at Red Mountain's hospital.
Now there's a Big boy! He's half grown already!
Timothy was still a baby when the family moved once again. Back to the Bay. To Berkeley. My mother (Thelma) later reviewed the setting and its seasons. When you were born, Jerry, Berkeley was just a quiet little college town.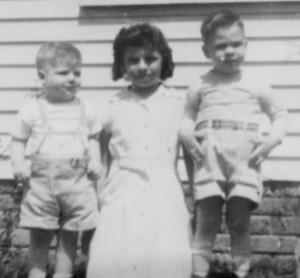 I came into the world one year, one month and one day after my brother, Tim. I skinned up the tip of my nose from regularly rooting face-down into the bed sheets. For this the hospital nurses labeled me 'little bull'.
How our small-framed mother actually delivered us bruisers, Tim and me, is a marvel. I trumped my brother Tim's birth weight, tipping the scales at a disquieting ten pounds. A vital, robust life seemed clearly ahead.
During this period a word was finding its way into conversations all around. The word polio.
©2015 Jerry Lout
Comments
comments