The mourners dispersed. The flower-dotted cemetery reverted to its earlier stillness. Thelma almost whispered her words.
What is it, Dovie? This Presence. It's inside me. . in gentle waves. What is this goodness and this . .safety I feel?
Thelma's question hung in the air. The shadow of a Canary Island Palm stretched across the lawn before them.
She was hungry for answers. This utter absence of her earlier grief astonished her. She hoped that the extraordinary calm would somehow remain. Yet she feared it may take flight. Could she carry on?
Dovie, will this peace, or the source of it, be near again if I (she corrected herself) when I need it?   
More questions. She had many and voiced most of them to Dovie over coming weeks.
Dovie was not a person of complicated notions or grand explanations. She waited. As she sensed a thought forming that brought clarity she pondered it, then offered a response. Otherwise she remained still. Prayerful.
The God that Dovie came to know and to love was real. And he was the giver of the Book. She knew that answers for questions that actually mattered were linked to the precious book. The pages of her own Bible showed uncommon signs of wear. It attested to truth. And to God's presence.
"All I know, Thelma, is Jesus is real. It's him. He's the presence."  Her words were simple, uncomplicated. Dovie responded in this way it seemed every time. Always highlighting Jesus.
How do I get him. . have him in my life, Dovie? Can I? I don't want to be without the hope. I need Jesus. 
"Just say that to him, dear. Give him your heart. Surrender to him your whole life. Let him begin to take over. He's listening. He doesn't turn anybody away."
Thelma yielded. As much as she knew how to. Shortly afterward Clyde kneeled, giving himself over to God's care. Both of them were ready. They sensed it keenly. They needed God's presence.
They were comforted too, that he understood the pain of releasing a son to the grave. Neither understood a lot of their salvation. They didn't worry themselves over it. They just believed, and trusted.
Clyde and Thelma entered a new kind of life. Striding forward in faith, limping at times. In love. And hope.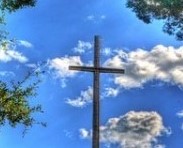 ©2015 Jerry Lout
Comments
comments