Nurse Deborah discovered me. How, I'm not sure. She wasn't assigned to my care. I'm glad she appeared.
One night, finishing her shift, Nurse Deborah dropped by. The visit launched a routine that I kept a lookout for. Her short pop-ins at the door consoled me. And I probably had a crush for her. The door edged open. Her nursing-capped-head tilted into view. We hear the saying – a smile that could light up a room. Nurse Deborah owned that smile. But what made her pop-by-visits priceless was her greeting.
I'm going now, Jerry. Have a good sleep, I'm praying for you! And her smile.
Life wasn't dull in the hospital. Not always. I wakened in mid-flight late one night careening to the floor. Next morning I studied their work as staff installed bed railings. 
A coal-black Terrier I called Jack comforted me in ways stuffed animals do. Jack couldn't wish me well or promise prayers like Nurse Deborah.  But the stuffed puppy gave me what she could not – continued tangible nearness inside institutional walls. Hospital or not my quarters remained a not-at-home place occupied mostly by strangers. Jack was hardly ever out of reach, often nuzzled at my neck between chin and one ear. It didn't matter which ear.
Mother moved in with her Tulsa niece and family at times. From there she jostled along on her daily bus rides to see me. Her prayer vigil pilgrimages, simply her presence there, calmed me.
Daddy's visits, when he could make them, lifted me in a different way. Striding to my bedside he'd align two of his working-man fingers. This formed his strength-test instrument. Extending the fingers before me he smiled. OK, squeeze hard, buddy. By this he checked my strength, hoping to see progress from one visit to his next. I looked forward to the drill, each time giving it my best.
But I weakened more. My breathing muscles strained. Doctors consulted about next steps including the Iron Lung. The frequency of Dad's strength-tests trailed off as my squeezing pressure faltered. Reduced to a limp hand encircling Dad's fingers. The limp word again.
The Bible gives an invitation for people who are sick. It's in the Book of James.
Is there any sick among you? Let him call for the elders of the church; let them pray over him, anointing him with oil in the name of the Lord. And the prayer of faith shall save the sick and the Lord shall raise him up. .
Elders of our church came to my bedside. These dear people had already been praying. They rested their hands on me. . .
Through your dear Son Jesus – Lord, heal Jerry.  For a God whose descriptive name is Father, childlike praying seems fitting.
And a change began. My paralyzing slide ended. Placing the Iron Lung option on hold, medical staff watched my breathing rally. Strength increased.  Wonderfully my sleeping limbs began stirring – as  waking from hibernation. In a short period I advanced from bedridden-patient to wheelchair-jockey.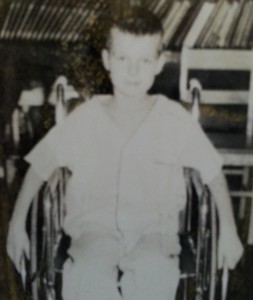 Then, remarkably, to standing upright. Within the month I left Hillcrest Hospital walking. Aided by crutches – but walking.
Kindness displays. Anywhere kindness is present it can't do otherwise. God's kindness. Exhibited through nurses – through mother-visits – papa-rendered 'strength tests – doctor's care – stuffed animals – healing-prayers.  In the form of many faces he comes. He came in all these and more.
I was – and am – immensely thankful.
A question tugged at me in coming years. . What about Opaline? For now, thanksgiving reigned.
In what ways have you received comfort, kindnesses? Think about them a little. Comment if you wish. Thanks a lot for coming by.
©2015 Jerry Lout
Comments
comments