Mom's fly swatter instruction of past times over my use of bad words met with failure in Hillcrest Hospital's therapy room.
 Hold his hip firm against the table. Steady now. Here we go – Up with the right leg.
Two people in white – a spindly man and a large-boned woman – stood opposite each another at the therapy bench. I lay face-up between them. They applied stretch treatments to paralysis-affected limbs. The therapy helped arrest stiffening of the muscles.
I took in their words. The stretching maneuver was underway. The leg in motion, kept straight as a board by pressure of a hand on my kneecap, rose upward. The stiffer the muscles the greater the strain. And the pain. Up, up until a searing sharpness passed through my leg, prompting me – their child-patient – to bark *%#$!  Though not loudly. 
The therapists shared knowing but not unkind smiles. Neither spoke. Their tasks – these disguised angels – inflicting pain on helpless children. Surely this brought pain their way.
An Australian nurse, Sister Elizabeth Kenny, had devised an effective treatment to limber up the muscle tissue of paralyzed limbs. Nurses at Hillcrest wrapped me, along with my polio peeps, in confining, steaming hot packs (I close my eyes today and smell the heavy, moist odor of sweltering chamois-like blankets). Mercifully the blankets held my body in their constricting grip for only short periods.
I never swore about the hot packs. As I grew older I extended myself grace over the therapy-table profanity lapse. Though not justified, cursing can slip through a set of teeth in a moment of sharp pain.
Remedial pain. Our world is rich with special Wisdom Sayings when we pause to listen. Some of these coach us about preventing needless pain; others on the actual usefulness of it.
Our limpings – whether of a physical or of a nonphysical nature – can meet with useful pain at times. Yet, we have to pay attention to detect the usefulness.
He who will not be taught by his elders will be taught by the world, African seniors counsel their youth.
No discipline is enjoyable. . it's painful! But afterward there will be a peaceful harvest of right living for those who are trained in this way.    the Bible's 'Book of Hebrews'.
My father and mother didn't discipline me perfectly. Nor have I my own children. Yet, we do our children no favor by withholding loving – and yes unpleasant – correction when needed. Emphasis – Loving. Just as failing to administer pain-inducing treatments to better a patient would, in fact, be unkind.
Still, my condition worsened. From waistline to feet my limbs went useless.  My upper body declined, my respiratory muscles weakened. An attending doctor informed my parents I would not walk again. Regardless.
A stuffed black Terrier Pup consoled me – along with one particular nurse. While specialists discussed my case – and the Iron Lung.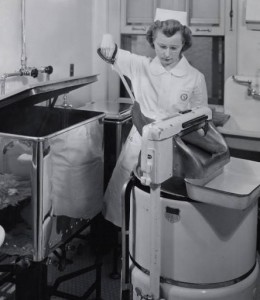 Question. What caught your interest most in this post? I'm very interested in thoughts, feelings of any readers.  Thanks again for following!   Alert! In part due to reader requests, Soon we'll post Running Life's Race Twice weekly instead of one per week – doubling the episodes.  🙂
*hot pack photo.nurse: OHSU Historical Collections & Archives
©2015 Jerry Lout
Comments
comments