Klak. Klak. Klak. Klak.
The sound of an archery bow thumping a bedroom window deep into the night is one not easily forgotten.
Our watchman's smokey voice joined the klacking sound outside, pronouncing my surname as best he could, "Bwana Lauti, Bwana Lauti."
At Nyamahanga's second or third call I stirred. The bedside clock read 1:30 a.m.
"Bwana Lauti. . . Mama karibu kuzaa."
The cement-plaster floor of our room felt cool to my bare feet. Flashlight in hand, I was soon exiting the room, "Honey, another ambulance run. A Mama has gone into labor."
"Ok," a sleepy voice murmured back. "Be careful." it was a role-reversal of sorts – Ann, normally the late-night riser when a baby needed changing or fed.
A few minutes passed. I whispered a prayer as the father-to-be who had raised the alert, took his place in the passenger seat. We were off to fetch the missus, then get her to Kehancha.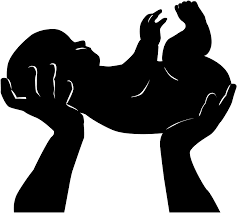 Such "ambulance runs" had evolved as part of a naturally-assumed job description for any bush missionary. The assumption, we agreed, made sense, as mission personnel were among the scant number of people owning a motorized vehicle.
The race against time came pantingly close some nights over my three-plus years of free, on-call ambulance service. But I somehow outpaced the labor contractions with every midnight jaunt. The same was mostly true for Canadian friend Phil Harman of Suna Mission some distance away. Except one night. A good part of the next morning found him vigorously doing a scrub-down of floorboard and rear seat in his newly-christened VW Bug Delivery Room. Mother and newborn had fared just fine.
Over time we grew to wonder what next medical crisis could visit the compound. It was during such a period a young man appeared at our back entrance. Night had fallen. He stood bleeding profusely, leaning into the support of another man. The machete attack had found its mark.
Jesus help us.
©2017 Jerry Lout
Comments
comments