(*Note. Due to the nature of some of this narrative's content, some may opt to forego its reading. .Watch for Tuesday's entry. .)
"They put my crying newborn there. Outside there. For the wild dogs or the hyenas to do as they would do."
Sometimes messages – especially messages suggesting the worst kind of thing, the unthinkable – simply get rejected by the listener's mind. Expelled from the world of thought before added information can follow. Perhaps this is a built-in reflex to shield the human soul being overly sullied by the unspeakable.
The poised African woman re-living her account was in her forties. She sat nearly immobile – her thoughts, even her body, seemingly lost in another time – years in the past where some things might be better left forgotten. To a place just a stone's throw distance from where several had now gathered, huddled outside our mission home.
Grace shared how she had come to live in this area, separated by several bus rides from her own people. She had been brought here, far from her family's region to the north, an outsider bride to a local tribesman. Her native clan followed their own practices, some good, others less so. What her own people did not practice – in her lifetime at least – was infanticide.
"The clan here into which I married had beliefs about child-bearing. Superstitions, I think." Grace's words fell from her lips, quiet, with little evident emotion. The days of jagged pain tearing at her mother heart had long past. But the memory lived fresh.
"If twins were born to a home, it was a bad sign, a bad omen."
One of the two babies would be let go, Grace told us. There, outside the hut, once night has fallen. Outside, where hungry creatures scavenge for dinner.
"And, too, when the time for a baby like mine should come. It, too, must be let go."
Can this be real? I had heard of pagan practices in far off places. Am I truly now living in such a place?
The African woman spoke of the occasional baby, like her firstborn, whose only wrong was failing to make her arrival to the world head-first. A breach presentation.
For Grace those years ago one night, her labor pains had reached what seemed their limit. She strained a final time.  Moments passed. A wave of relief came. Cries of a newborn – vibrant, healthy-sounding cries.
But not cries, after all, to be celebrated.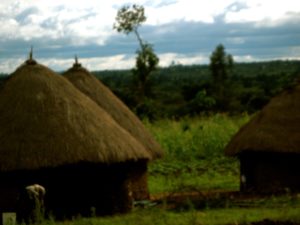 The new mother helplessly agonized her own horror as her mother-in-law moved the baby out of reach, then beyond the dwelling's entrance way, out into the night.
As my wife and I learned the story we were taken by the nearness of it all.
In the instance of this young mother, the loss of her newborn had happened just a few years prior to our arrival to Kuria-land.
Mercifully for Grace, another pregnancy followed and, later on, another still. Each pregnancy heralding entries into the world of children lucky enough to arrive in acceptable fashion.
Does the presence of foreign missionaries matter? Does our coming really make a difference?
A young Maasai, slender and tall, had an answer for me. Years afterward. In Tanzania.
© 2017 Jerry Lout
Comments
comments