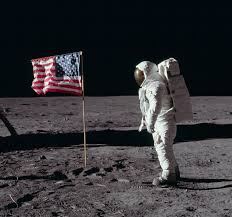 By my eighteenth year I had never seen a televised funeral, much less for a president.
From my elevated perch at the client's living room I watched my dad, pipe-wrench in hand, navigating space beneath the house. Stooped beyond an open place in the hardwood flooring, he called up occasionally, assigning me a task common to plumber wannabes.
Stepping carefully to avoid a fall through the rectangular gap where the floor furnace had earlier rested I took in the somber music and snatched glimpses of the T.V.'s black and white images. The casket, draped full-length in the national flag, held the body of John Fitzgerald Kennedy. It rested atop a carriage drawn by seven white horses. I shivered at the cold air rising from the opening below, the absentee furnace depriving us of warmth in the November chill.
Thirty months earlier as my Sophomore High School year was ending, this popular young president had boldly announced, "we choose to go to the moon!" He attached a timeline. By the end of this decade. That was May, 1961.
Challenging his citizens to beat the Soviets in a great skyward race, Kennedy's speech had fueled a bigger-than-life dream. Pursue the unthinkable. That was then. An assassin's bullet had afterward found him and eight years had now lapsed.
I dismounted my blue Vespa scooter before the newspaper plant that helped fund my college fees and support my young wife. San Antonio's July heat bore down. Removing the bike helmet, I padded my brow and neck with a handkerchief, collecting enough moisture to quench a small fire. Relaxing a moment, I squinted across the way, marveling once more at the recently erected Tower of the Americas, landmark of the city's historic International Exposition otherwise known as Hemisfair. Making my way to the shop floor I settled into my usual place before the teletype equipment. This, however, was no usual day.
Minutes later I joined fellow technicians before a T.V. set. In near disbelief our gazes drank in something no humans in all history had witnessed and few had dared dream. Our past president, his body long since entombed in Arlington Cemetery, had declared it, "we choose to go to the moon".
The television crackled as a man's voice traversed a great expanse of outer space. It found its way to an upper floor of the San Antonio Express. The voice of Neil Armstrong.
"One small step for a man, one giant leap for mankind."
All about me the newspaper's work area rang with cheers. I fell silent and revisited memories of a different work place. North American Aviation. Where I had not that long ago, sorted, filed and fetched engineering blueprints.
Labeled Apollo.
©2017 Jerry Lout
Comments
comments