I see black faces.
Reverend Alta, our lady minister, signaled me with a compassionate but direct look. It was Sunday evening worship time in Okmulgee. I had entered my last semester of high school.
Jerry, there are many of them gathered, she continued. A sea of black faces. You are standing before them. Speaking to them. I'm not sure what it may mean. But I see this.
Her eyes and voice conveyed certainty. Rev. Alta was confident of what had met her vision.
Vision. Rev. Alta saw a vision – at least a mental impression – with me in it?
I thought of the picture's content – tried imagining the scene. My response was respectful silence.  No goose-bumps or chills. Still I knew from my heritage that these kinds of things can carry meaning. Maybe there is a scent of something here that I'll connect with further ahead. Maybe not. I shelved the message of the vision, asking the Lord to do his will.
Weeks later green buds started showing on trees. Leaves emerged, flowers revived. With them, spring colors. Senior commencement drew nearer. I fell into a reflective mood – calling to mind people and events intersecting my life up to the present.
A leg brace – pear-tree climbing with Tim – Opaline and VBS – mischief – a polio ward – hayfields, heartbreak, home. . . And. Youth rallies with friends – Billy, Marilyn, James, Pat. . .
Musings continued.
From age five I sang lustily on Lord's Day. Up front in the sanctuary with my peers. A happy routine each week – us all in a line across the front. Just before dispersing to our Sunday School classes. . .
This little light of mine, I'm gonna let it shine. . . Deep and wide, deep and wide; there's a fountain flowing deep and wide. . . Zacchaeus was a wee little man, a wee little man was he. . .
I drew a handkerchief from my back left pocket and tooted my nose, telling myself it was seasonal Sinus.
The reflective mood carried me deeper. To feelings beyond simple nostalgia. Shortly, another tune surfaced. I had learned it at youth rally. And we sang it at Robbers Cave Park Camps. Humming it again, the lyrics came easily. I smiled, remembering it's first try among us. Led by wavy-haired Pastor John.
It may not be on the mountain's height,
Or over the stormy sea;
It may not be at the battle's front,
My Lord will have need of me;
But if by a still, small voice He calls,
To paths that I do not know,
I'll answer, dear Lord, with my hand in Thine,
I'll go where You want me to go.
I'll go where You want me to go, dear Lord,
O'er mountain, or plain, or sea;
I'll say what You want me to say, dear Lord,
I'll be what You want me to be.
The song stirred memories. Feelings. Of gathered teens at the front of campground chapels or church auditoriums. Singing the prayer and praying the song. Church ministers sometimes label things with short phrases. Our teenage faces were often moistened by the last stanza. . . Tears of Consecration.
Sensing the tender presence I again fished out my handkerchief. I grew thoughtful. An image of some months ago visited my mind.
Of distant lands. Of black faces.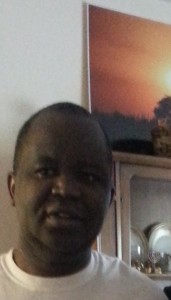 ©2015 Jerry Lout
Comments
comments