And now we welcome two brothers – the Lout boys – to the waters of baptism. Our lady minister, dressed in white and smiling, beckoned my older brother and me. Sister A was standing in a cattle pond fifteen feet from shore.
The foreman of the ranch attended our church. In summer months he supplied this venue for those ready to be baptized.
Sister A adjusted her position, steadying her bare feet on the pond's floor. She stood waist deep, was poised, looking elegant. She noted our approach while pondering the dignity of her office. Considering her bearing Sister A might just as well be performing the sacrament in a cathedral.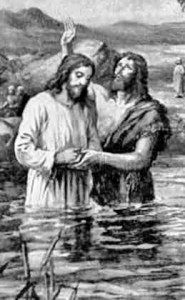 Tim and I waded forward. Our understanding of baptism's actual significance – at least my understanding – was limited, shallow as the waters hugging the pond bank.  Our church didn't always articulate clear reasons for certain practices. To comply. This was seen as the purpose of doctrine. Love God and do what he says:
Jesus was baptized by John.
Followers of Jesus get baptized.
You go under water and come up again. Like Jesus in the Jordan River.
This, for the most part, summed up our tutoring. And, given we were Pentecostal, I vaguely caught that some people experience the Holy Ghost at the moment of water baptism. Without irreverence I wondered. Will I to talk in tongues when I come up?
Nearby, a mama cow bawled.
OK, Tim. Now squeeze your nose shut. Tim complied. Facing him, Sister A placed her palm at his back, the other on his chest. She shut her eyes.
Now, in the name of the Father and the Son and the Holy Ghost, I baptize you. She invoked the divine titles while lowering Tim beneath the water and returning him upward. The small gathering of witnesses, our parents included, smiled their approval. The minister caught my eye and nodded. I stepped forward. The ritual was repeated.
I remember thinking this was a good thing that had been done to us. I also remember wishing we could remain longer – make further good use of the pond, swim around awhile.
Being baptized under the open sky in a setting familiar to a farm boy left me with a pleasant memory. My joy over the occasion, however, came years later. Wise and caring believers opened Scriptures to me on the rich theme of water baptism. The beauty of identifying with Jesus. It was belated joy but still joy.
Tim and I brought our dripping bodies to shore. Our parents received us. Mother extended a towel. We got into dad's '51 Ford.
Our thoughts shifted from pasture and pond to mother's kitchen. The roast in her oven would be ready now.
         We were therefore buried with him through baptism. . in order that,
                                                       just as Christ was raised from the dead. . we too may live a new life
– Romans 6. Bible
©2015 Jerry Lout
Comments
comments