The mid-twentieth-century tsunami sweeping inland from the coastal town of Mombasa carried with it no carnage, no loss of lives. . . no water. What the wave of spiritual awakening brought was a transformed culture among Kenyans, Ugandans and Tanzanians for years to come.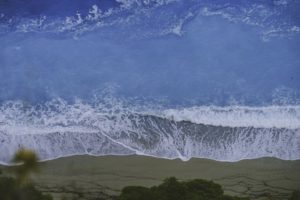 "Only the power of the living Christ proclaimed in demonstration of the Holy Spirit can meet the urgent needs of humanity."
Oklahoma-born evangelist T. L. Osborn, who is credited with the quote, launched his gospel crusade in in Kenya's second largest city on the shores of the Indian Ocean. It was 1957.
The message of Christ was preached. Prayers for healing followed. Africans yielded to Jesus by the thousands, many of them gaining freedom from sicknesses, others from addictions and destructive lifestyles. They had met Jesus.
Once the meetings ended, the message of Christ swept inland via large numbers of newly-transformed, love-emboldened men and women.
According to one African churchman the Mombasa meetings released the fountain of a river spreading through the heart of East Africa. Hundreds of new believers were launched overnight as gospel preachers in Kenya, Tanzania, Uganda and Congo shared the message. Most did so with little or no funding, scant organizational backing. Within a few years, thousands of new churches had sprung up in bustling cities and sleepy villages. Led by men lacking somewhat in biblical literacy but not in passion.
It was into this eruption of multiplying churches the generation of missionaries preceding ours had landed. And in their wake a company of wet-behind-the-ears, twenty-somethings with a measure of Bible knowledge and less practical experience than any of us would have boasted. Two or three Bible schools had been opened by now. But the demand for foundational instruction among hundreds and hundreds of untrained spiritual shepherds remained daunting. Still, we went to work, our hearts sincere. A faithful Lord –  keenly aware of our frailties – met us there.
From Lake Victoria's Luo-land to the Ocean's Mijikenda peoples, African preachers – their local-language Bibles in hand – shared good news. Courageously. Compassionately. Whole populations, formerly bound to witchcraft curses, incantations and the great dread of dying, came alive in the hope of the gospel.
Lyrics of a Swahili chorus gave testament to many, of their encounters with a vital Deity known as loving, forgiving, empowering. Moto imeshuka (Fire fell on me).
The wonder of Christ-centered outbreaks acknowledged as from the Holy Spirit wasn't new to the continent. In the 1920s an African national, Simeon Nsibambi and a missionary, Joe Church, labored together in prayer as they searched Scripture and their own hearts. Both thirsted for holy and empowered living. Others joined the quest. By the coming decade, waves of sorrow over sin, confession and deliverance, and believing faith broke across Rwanda and Burundi territories, through Uganda and beyond.
Turning from their wrongs, inviting the Spirit's infilling, vast sectors of tribal peoples – thousands of nominal Christians numbered among them, shed lifeless religions and paganism. In exchange for an emancipating redemption secured through a cross and a vacated grave.
While believers still far from perfect, grappled with issues, struggles and setbacks, Jesus undeniably marked their lives going forward. The movement grew. It's transformative impact on religious sectors, educators and households of all descriptions flourished.
The movement bore fruit whose fragrance and flavor draw hungry seekers still. Eventually a name was assigned the phenomenon, The East Africa Revival.
Today Christ-followers from across the continent – male and female, seasoned laborers and young converts alike – press on with the proclamation of God's love in the power of the Holy Spirit.
Africa's enthusiastic heralders bring to mind a captivating phrase – the motto of a group of disciple-makers known as the Navigators.
To know Christ and to make Him known.
A more worthy, more glorious mission, who could conceive?
©2018 Jerry Lout
Comments
comments