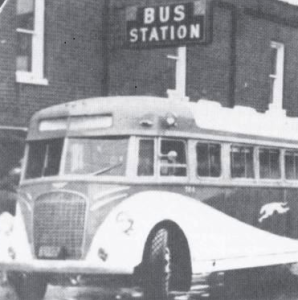 Clutching her tan cardboard suitcase Thelma boarded the Greyhound bus. With her free hand she swept a film of dust from an empty seat. Dust. It was like a crazed intruder. Nothing seemed to deter it.
She settled in for the first leg of her journey. Unknowns lay ahead.  What was it like anyway? This Golden State?
Clyde kept his promise. He wired her travel money. He would meet her at the other end of the line.
She considered Clyde's qualities. Like anyone he had shortcomings. But he kept his word. Her nervousness eased.  She was joining him soon just like he said. He'll receive her with his wide smile and embrace.
The bus was on open road now. Thelma lowered her hands, linked her fingers over her midsection and looked out the window. One – two – three. She counted fence posts parading by.
An exodus of automobiles and trucks, some barely roadworthy, chugged westward. Most were bulging with Texans and Oklahomans – Dustbowl escapees. Every small town dotting the Mother Road received the caravan. And yielded it up some minutes later at the far end of Main Street. 
Her last ride rolled into East Bay's station. Thelma eagerly studied faces of locals receiving their travelers. Where was Clyde? Lugging her suitcase she alighted. She scanned the area until it nearly emptied.
Fingering a scrap of paper with an address scrawled on it she trudged off. The suitcase felt heavier.
Clyde hurried along the hilly streets. He was frantic and mortified. How could he have done it? How could a guy drift off to sleep like that – miss his girl's arrival?
He turned a corner and saw her.  Her luggage shoulder sagged and her face was flushed.
On the trip she saw them racing toward each other. Laughter.
Taking the suitcase he awkwardly hugged her. He apologized. At the entry to their apartment he apologized again.
Clyde was a man of strong conscience.
Today it pummeled him.
© 2015 Jerry Lout
Comments
comments